Overall, not a bad battle given the circumstances, what with it being Bartone and all, and Tantrum completely butchering his first round. Continue after the break for my full breakdown me ranting about this battle, as well as a working link to the video.
Tantrum choking early on sucked, but hey, it happens. Everyone says, "Hey, at least keep going and finish your round", but speaking from experience and using this video as an example, I think not. I mean, major props to Tantrum and others who continue to freestyle after, but what good is it? In a written league, when you're a rapper who recites well written verses which have a consistent scheme within them, a choke is completely obvious and difficult to come back from. Even if you freestyle very well, it's still almost always obvious that you forgot your lyrics, and regardless if you recover, the crowd and the judges know it. When it's obvious that you're coming to a battle with a fully written arsonal, and you forget it, even if you freestyled better than your lyrics, people will still view it as you forgetting your shit. And rightfully so.
I really don't see a point to keep going unless your name is NoCanDo or some shit. But whatever, who cares.
What the fuck is with Tricky P being a goofball? An OT? Even if you do judge it on "overall performance" and not round by round, Tantrum still wins. Lol, what does overall performance mean that can't be summed up in "who won the most rounds?" Tricky, I know you are Canadian and all, but if you honestly think Bartone deserved to win more than the first round, you're nuts. I would expect you to understand the concept of coming back from a fucked up round since you've had to finish yours Tantrum-style many times before.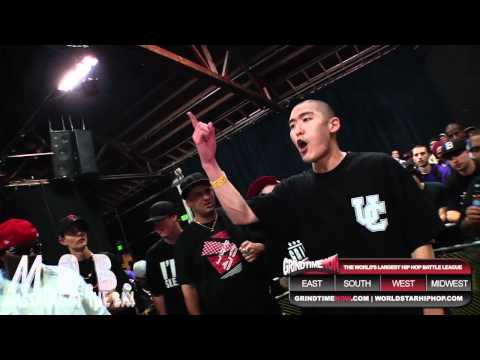 Tantrum took this easily in 3. It's obvious Bartone took the first round, but got killed in both the other rounds. Bartone has a lot of good concepts that he either executes horrendously or just dresses up with tons of unnecessary multis, effectively killing any semblance of a natural appeal. He also made the mistake of using his best round first. Once Tantrum chokes, he automatically wins his first round, so he should have used his worst one to combat Tantrum's following rounds. Easier to think of after the fact, though.
I'm surprised that both people seemed to use one single angle throughout the entire battle. This match up was Asian Vs. Guy Who Can't Fight. Unfortunately for Bart, having a video online where you throw awkward punches and kick a guy in the ass, is much more damaging than being Asian. I hope both guys vary their angles up in the next matches. Perhaps Tantrum's first round covered more shit?
Big laughs at the crowd going "WHAT?!" at the end of this.