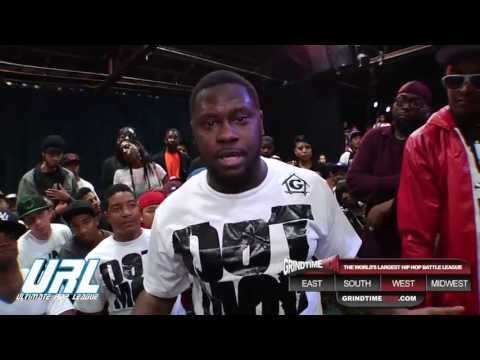 Excellent battle so far. A few thoughts after the jump:
-ROFL @ Rex thinking his hamstring is in his arm and then calling it a hamspring. How in the fuck is this guy a male nurse?
-Rex' reactions during this and the banter back and forth between him and Awk are priceless.
-Okwerdz' crowd reaction interrupted him nearly every line, unfortunately cutting off his momentum. Would be nice to hear him keep up some sort of energy throughout, but that's difficult to do with large reactions.
-Rex' first round was hilarious, but his next two were definitely weak in comparison and Okwerdz easily won this battle.
-LMAO "take your remains AND THROW 'EM IN A LAKE!"
-Crowd booing Rex for dissing Hollow. Yeah, we're so biased against East Coast!